Post by Muffins on Jul 12, 2022 0:48:45 GMT 10
Real weapon names and more!
Zenny Update has been released!
Henlo! This is part of the 4PR family of mods.
Here are the other games it's available in:
It's a small mod that primarily changes all weapon names to their real counterparts.
It also changes descriptions, alongside changing other things such as the name of ammo, weapon parts, items, valuables etc.
For better info, previews, and what not, please check the Nexus page:
4PRE4C on Nexus
What have you changed?
Changes were made to names and descriptions of Weapons, Ammo, and Weapon Parts. Supports all modes of RE4.
With the Zenny Update this list expanded to cover all Valuable Treasures you can find in RE4, all Healing Items (yes including the eggs and fish), support for the unlock screens, Bottle Caps, Merchant's upgrade menu, and even the costume select screen.
As well revising some grammar, and minor qol fixes here and there from both 1.0 and vanilla RE4. For example, the Merchant when referring to Leon or Ada will have "Stranger" being capitalized.
A full list of changes can be checked in the changelogs, or within the Documentation folder included with the mod.
It's a big list, and to be honest, it's more fun seeing the changes yourself in-game!
Special Thanks!
SnakeyBoy
- Resident Evil Font used in the Logo, his DeviantArt profile can be found
here!Bianca Shiro
- Helping me download said fonts because I was too lazy to do it myself.
zatarita.tpl
- For finding the location of unlock screens for the Main Game.
Scoovy
- For finding the location of unlock screens for Separate Ways.
And general thanks for the amazing toolset for RE4 Mods:
RE4UHD Toolset
, a collection of tools by
Son of Persia
that was released by
Mr.Curious
.
You can find that toolset
here!
Unsorted Preview Pictures!
These preview pictures can be found in the official mod page on Nexus as well.
I thought of displaying it here as well because it's necessary.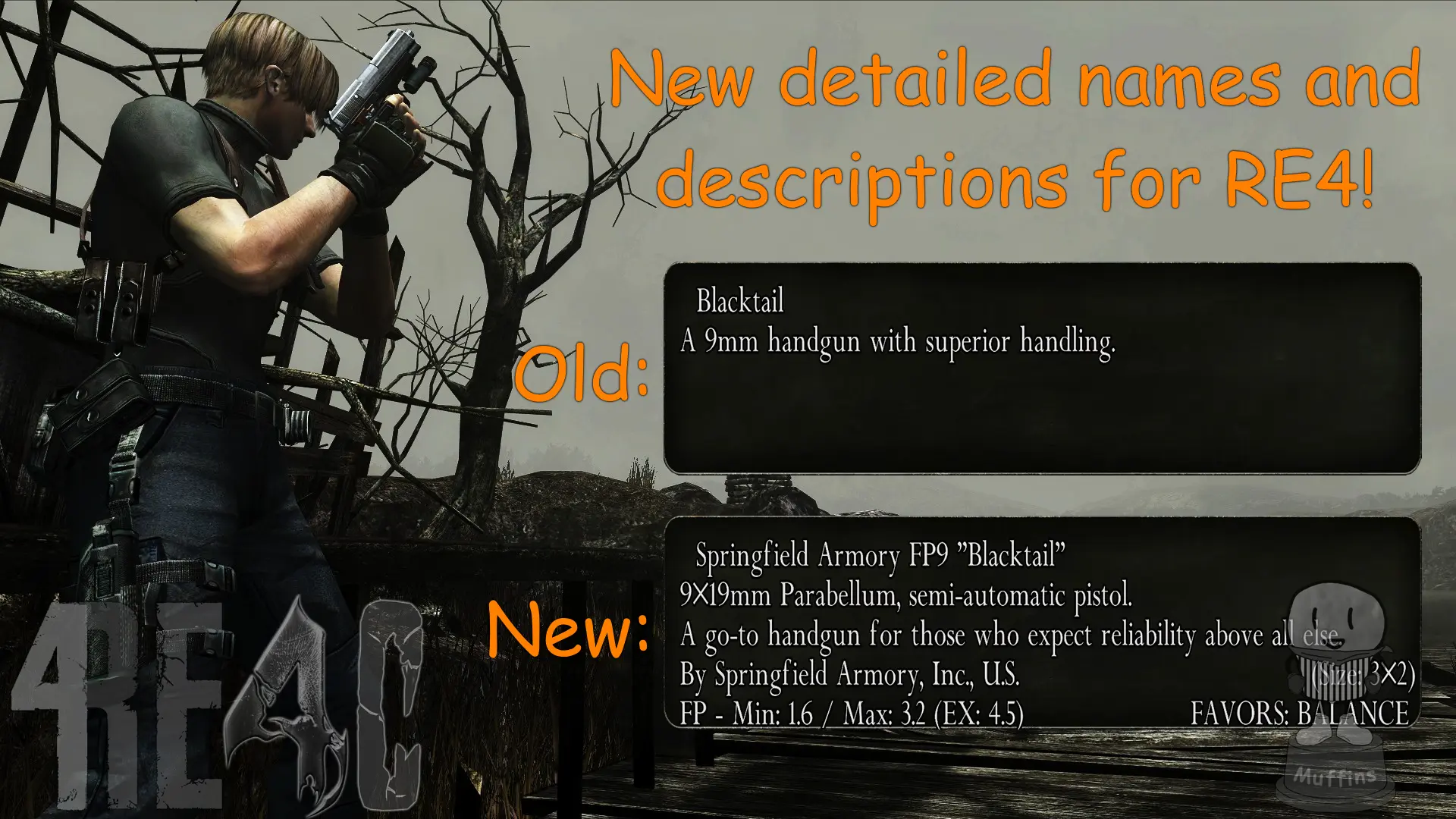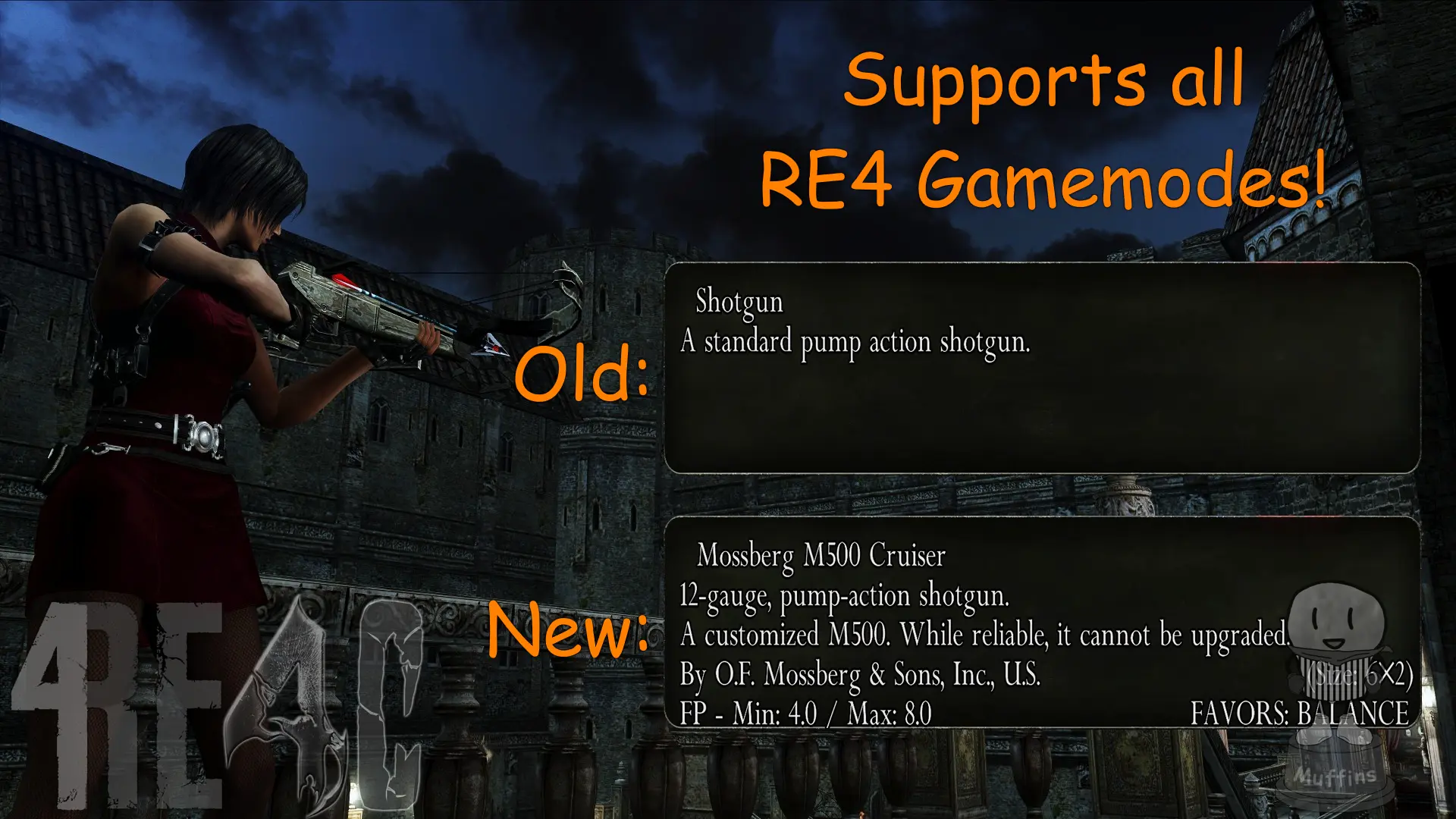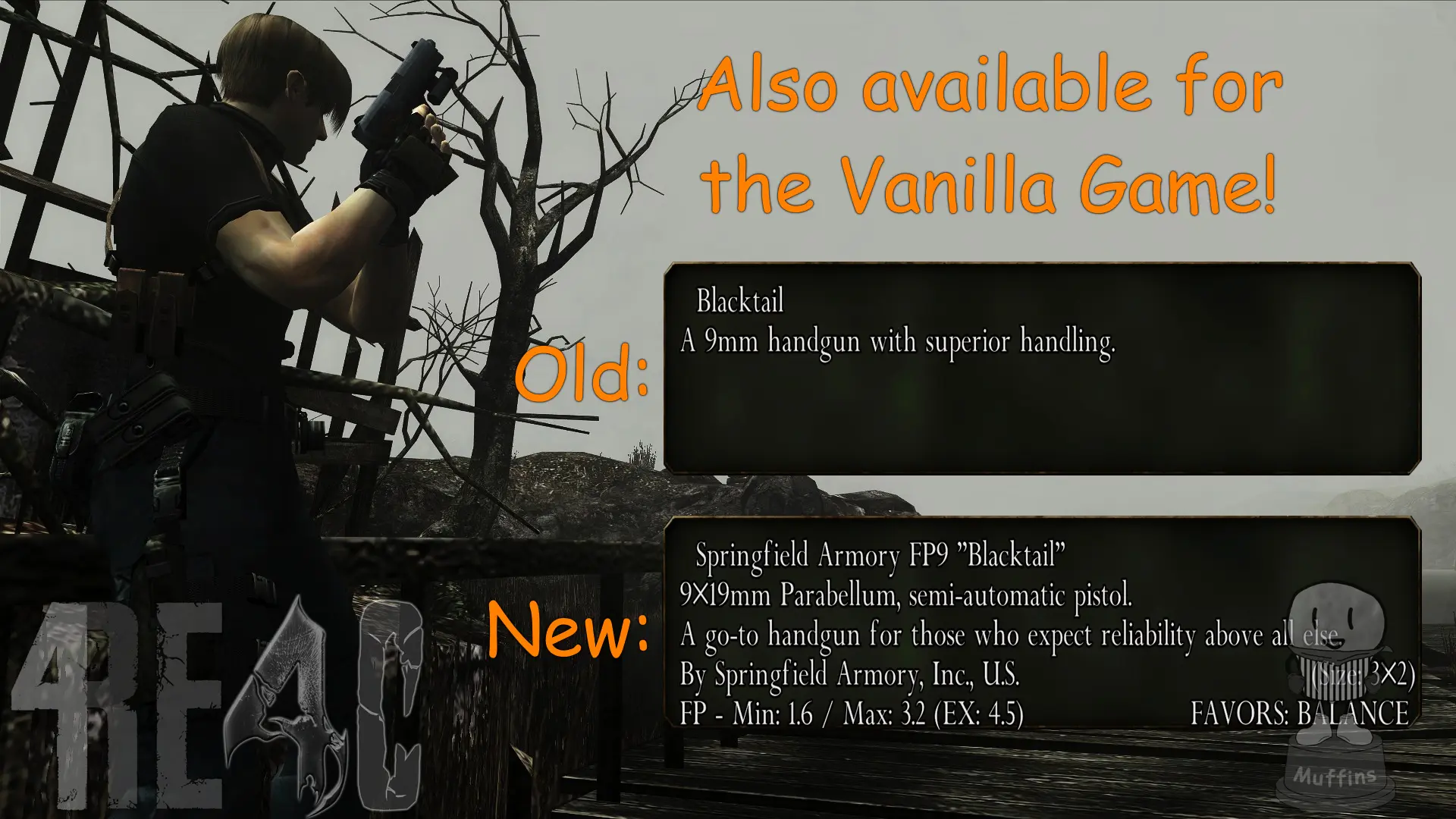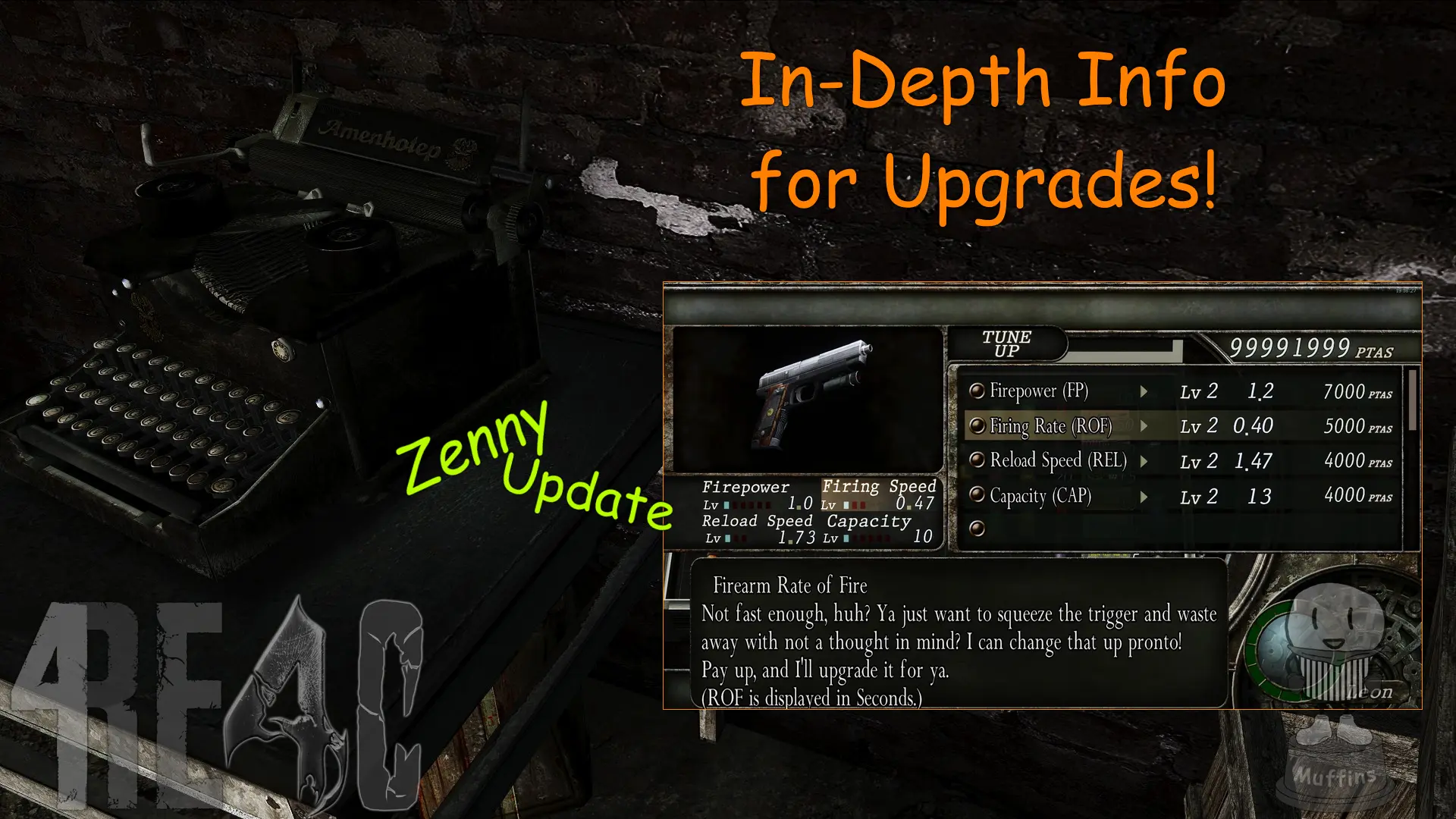 Sources!
Interwebz:
Internet Movie Firearms Database
Wikipedia - The Free Encyclopedia
Resident Evil Wiki
Mega Man Knowledge Base
Marvel vs. Capcom Wiki
Suda51 Wiki
Bloodborne-Wiki
Final Fantasy Wiki
Futurepedia, the BTTF Wiki
Pipedia
Resident Evil 4 HD Project
VGBA - Box Design Showcase
United States Department of Defense
B&T
Weapon
Systems.net
Midwest Gunworks
Knight's Armament
Vector
Optics
PULSAR
Dermoplast
Bass Forecast
Lucky Lures
Britannica
Fire Mountain Gems and Beads
St. John Vianney - Catholic Parish & School
Hamilton Horology
SMOKINGPIPES
Iwan Ries & Co.
Lifestyle Packaging
The British Museum
Ancient Egypt Online
FACTS AND DETAILS
Wildside Holidays – Walking and Wildlife Holidays In Spain
Games:Previous Resident Evil TitlesOther Capcom TitlesBloodborneFinal Fantasy VIIFisherman's Bait 2: Big Ol' Bass
c: