Post by JTeghius Kittius on Feb 7, 2021 22:50:04 GMT 10
Mod: Ada Wong - Assignment Ada REimagined costume
by:
JTeghius Kittius
Version: 2.7
RE:Verse version of this mod
so I had the idea of trying to create a reimagined version of Ada's costume from Assignment Ada out of other costumes from RE Engine games.
I didn't want to port the original model from RE4 because I wanted a model that matches the high fidelity of RE2R
Models I used for this:
Holster/Vest/stomach/lower half of shirt - Military Claire
Pants - Noir Claire
Shirt/Arms/Gloves/belts on body armor - STARS Jill
Boots - Classic Jill
Utility Belt - RE3 NPC Cop
turtle neck addition to the shirt - REsistance Wastelander Jill
leg harness - RE7 Chris (technically it's taken from his RE:Verse model, but that's reusing his RE7 model *shrug*)
the mod affects Dress Ada and Injured Ada. Coat Ada isn't affected.
There's four versions of this mod.
one with belts on the bulletproof vest and one without them. Third version is with the belts and turns the shirt into a turtleneck, the fourth version adds some additional pouches and leg harness straps.
3DS Max (Full Gear version):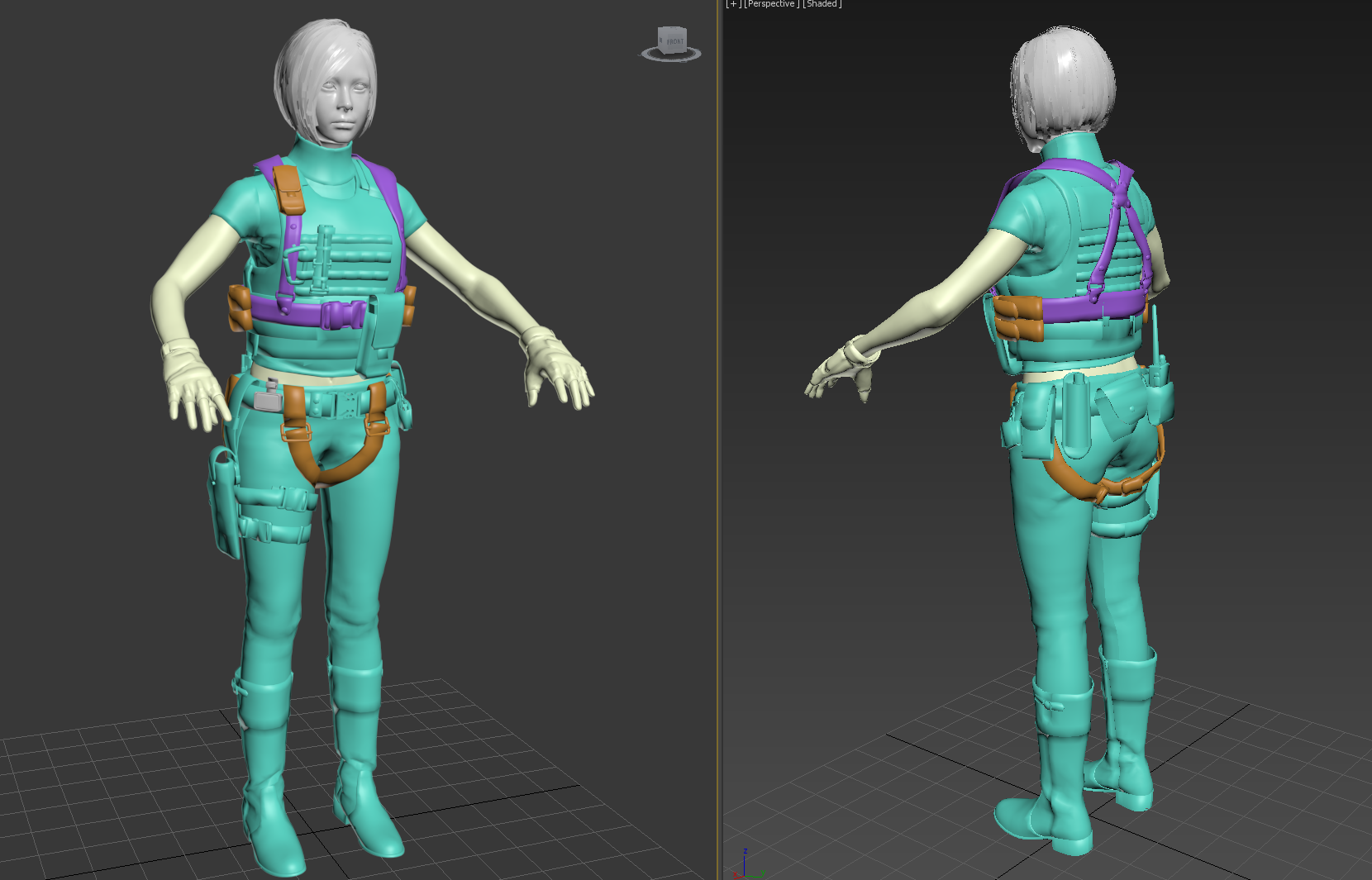 screenshots of base version:
Screenshots with belts:
screenshots with turtleneck:
screenshots of "extra gear without side pouches" version:
screenshots of "full gear" version:
The no side pouch version is the exact same as the full gear version, it just removes the pouches on her sides to reduce clipping with her arms.
no side pouch (injured) version (bandage fix in V2.7):
I adjusted the skeleton so that her gun is in her leg holster
(thanks
alphaz
for letting me pester you with my questions, LOL)
video of older version:
known bugs:
- full gear version has very noticeable clipping with the arms going through the pouches on her sides
Don't reupload my mods without permission.
downloads:
Download base version
Download with belts
Download turtleneck version
Download - extra gear without side pouches version
Download - Full gear version
I got the request to make this replace her trenchcoat too.
use either of these two small mods to give her the assignment ada costume over the trenchcoat
(note this small bonus mod works with any mod installed over the red dress)
replace trenchcoat with "red dress" costume (or when using this mod, the assignment Ada costume):
Download link - no glasses
replace trenchcoat with "red dress" costume but keep sunglasses when she's supposed to wear the trenchcoat:
Download link with glasses
I made some retextures of this costume for REsistance, so here's the one I like the most as an optional add-on for RE2R.
FBI Retexture for Ada:
Download link
this mod requires any of the base versions of the assignment Ada costume to be installed first. this mod is just the textures.
optionally replace the trench coat outfit with a variant to make it seem like she's wearing the coat over the Assignment Ada gear:
Requires any base version to be installed:
Download coat cover-up
requires fluffymanager to install:
link
if there's any issues, besides the "known bugs" let me know.
enjoy~