Post by Wizard on Dec 9, 2013 15:51:06 GMT 10
This mod completely replaces Sheva Alomar, with Jill Valentine (All Models, Menus, Text..etc)
Surely you could have used Wilson's trainer to replace Jill with Sheva, but that comes with issues & problems not only on your end, but for your co-op partner who doesn't have the trainer patched installed.
I for one, prefer to only have such changes effect my end, so my co-op partner can still see whatever files they have installed, so it is no inconvenience to them!
----
VERISON 2.0 DOWNLOAD: (If you've already downloaded this mod, please re-download!)
-DOWNLOAD-
(Read Below to see all the updates & upgrades)
----
What this mode does:
Jill BSAA over Sheva Plain - Works 100%, No Crashes
Jill BSAA over Sheva Default/Normal - Works 100%, No Crashes
Jill BSAA Over Sheva BSAA + Vests (All Vests) - Works 100%, No Crashes
Jill BSAA S.T.A.R.S reskin(By chavoaguila) over Sheva Business - Works 100% , No Crashes
Jill Battlesuit over Sheva Clubbin - Works 100%, No Crashes
Jill BSAA Blood Fury Reskin over Sheva Tribal - Works 100%, No Crashes
Px4 Over Default M92F Handgun (Image, Gun Model, Gun Sounds) - Works 100%, No Problems
Jill BSAA's head over Sheva BSAA's in cutscenes, not replaced over Clubbin, Tribal or Business, Works 100%, No Problems
Several text based adjustments made in-game (ENGLISH ONLY) and image adjustments made in the menus (SOME ARE ENGLISH ONLY)
s511 Stage (6-2 Boss Fight) Edited, I changed the stages CHN file so Clubbin & Tribal Model swaps would no longer crash! : )
-NEW- V2.0 - Jill now has all of her animations, except for sweep kick due to hit-box issues. All other animations are fully working for all costumes.
-NEW - V2.0 - 6-3 Crash with Battle-suit jill is now fixed (Via editing the stage's CHN file itself)
-NEW- V2.0 - To ensure all players don't crash, all of the Jill & Sheva SE Files have been added separately. Also Jill's knife (WP_24) sound files added to ensure smooth gameplay.
----
Things not adjusted/Added:
I could not replace Sheva's knife with Jills without problems, when I swapped the knife model itself, or the animation, it'd get really buggy, so I just canceled that idea.
IMAGES: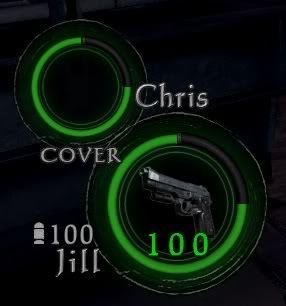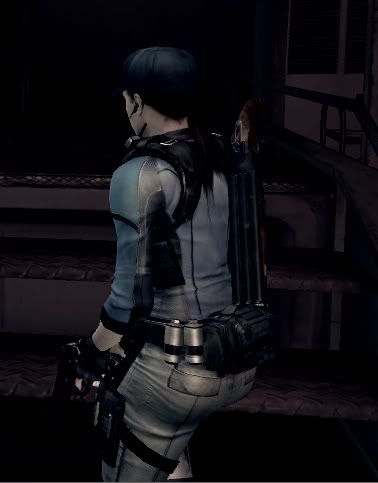 SPECIAL THANKS/CREDITS: chavoaguila, for letting me use his STARS Reskin, and Wilison for his "Crash Free" CHN Trainer file, Ashley G. = For creating a higher quality render image for the character selection screen.
WIP THREAD: (For those curious to see how the mod progressed)
z6.invisionfree.com/Resident_Evil_4...showtopic=21171