Post by jimmyandresrg on Feb 27, 2019 1:32:37 GMT 10
The only criticism I have is that your version looks very similar to the Claire-ish mod by UberGrainy that was released earlier on NexusMods, which is not necessarily a bad thing, since I did like that mod. I say this based purely on the screenshots you provided though, I haven't tried your mod yet, but I will soon.
Please understand that I'm not suggesting that you copied UberGrainy's work. To me, it just seems like you two had different goals in mind, one wanting to restore Claire's old design, while the other wanting to make her look more like her real-life model. So you had different approaches and took different paths, but ultimately ended up at the same place, or at least very close to one another.
I've seen some of the response you got on Nexus and I'm aware that there are some negative comments and useless criticism there. I sincerely hope you find this constructive somehow, I'm really not trying to be negative here.
Still, having two face remodels being released on the same day is a welcome addition nevertheless. At this pace, I wonder if we'll get to see something based on this in the near future:
I got the image from Google, I don't know where it's originally from nor who made it, but I really liked what they did here (I know the version it's being compared to is inaccurate to her in-game model, but still, I think it looks nice)
Thank you for sharing your work, you are very dedicated.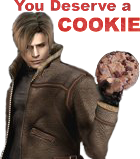 If unfortunately, they got ahead of me by publishing the other mod !!!
Also, there were captures and had already advanced in another post that was already working on this modification beforehand.
Actually if you place a modification next to the other you will notice a greater difference, the style of the other is something more anime.
Do something like this seems simple, just move polygons and, but to make it look natural you have to try and try to find the exact point, you need to know the proportion and human figure so it does not look grotesque.
I do not mind the comments, it's what this has to do, each person has his personal vision and tastes, I think many people do not understand the work and the hours it takes to do something like this, plus you do it out of pure love of art .
I keep working on different updates, I do not feel completely happy with my nose, but I decided to get it out soon when I saw that a similar mod was released, and that was really frustrating ... I'll keep getting updates on this mod until I'm really satisfied.